Beyond 5G lab: Communication technology of the future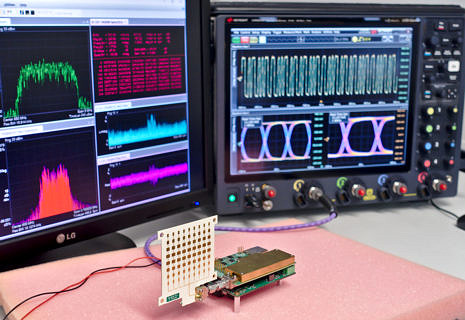 FAU Engineers receives funding of 1.7 million euros to purchase a unique measuring system as part of the DFG major research instrumentation initiative
Increasing volumes of data have to be transferred more rapidly than ever before: the demands placed on wireless and mobile communication technologies are rising all the time. FAU has received funding of 1.7 million euros from the major research instrumentation programme of the German Research Foundation (DFG) in order to set up a Beyond 5G lab for cutting-edge research into components, circuits and systems for extremely rapid wireless data transfer – one of only four locations to be chosen throughout Germany.
The funding will allow the Chair of Microwaves and Photonics (LFHT) and the Chair of Electronics Engineering (LTE) at FAU to develop a unique measuring system for fundamental research into future mobile communications and wireless technologies for extremely high data rates. 'We will implement a measuring platform with outstandingly low noise for use in researching millimetre-waves and terahertz communication systems concepts of the future, which are considerably more powerful than existing devices in terms of their bandwidth and sensitivity. This ensures ground-breaking precision of analysis for research into methods for designing innovative system concepts,' explains project coordinator Prof. Dr. Martin Vossiek from LFHT. 'The fact that our proposal has been approved reflects the appreciation of the joint research being conducted by our Chairs in the area of high-speed communication,' adds Prof. Dr. Dr. Robert Weigel.
With the major instrumentation programme, the DFG specifically funds complex major instrumentation and devices based on outstanding or innovative technology for use in research. It is hoped that making technology available early on will have a positive and tangible effect on the relevant fields of research.
Further information
Prof. Dr. Martin Vossiek
Phone: + 49 9131 8520773
martin.vossiek@fau.de