Women's representative
Welcome to the website of the women's representatives at the Faculty of Engineering!
Promoting gender equality and implementing gender mainstreaming are key cross-departmental tasks at Friedrich-Alexander-Universität Erlangen-Nürnberg. The women's representatives are responsible for implementing measures relating to equality policy at the faculties.
WomenInScience@TF – Lectures and panel discussion on the topic "Networking"
Commitment to encouraging women at the Faculty of Engineering
The Faculty of Engineering is committed to encouraging women and increasing the percentage of women across all qualification levels. The specific initiatives on offer are stipulated in the current version of the target agreements 2018 – 2022 concluded between FAU and the Faculty of Engineering. On this page you will find information about the current programmes and initiatives for women at various levels of qualification:
In addition, the women's representatives organize and support various internships and mentoring programmes for female pupils.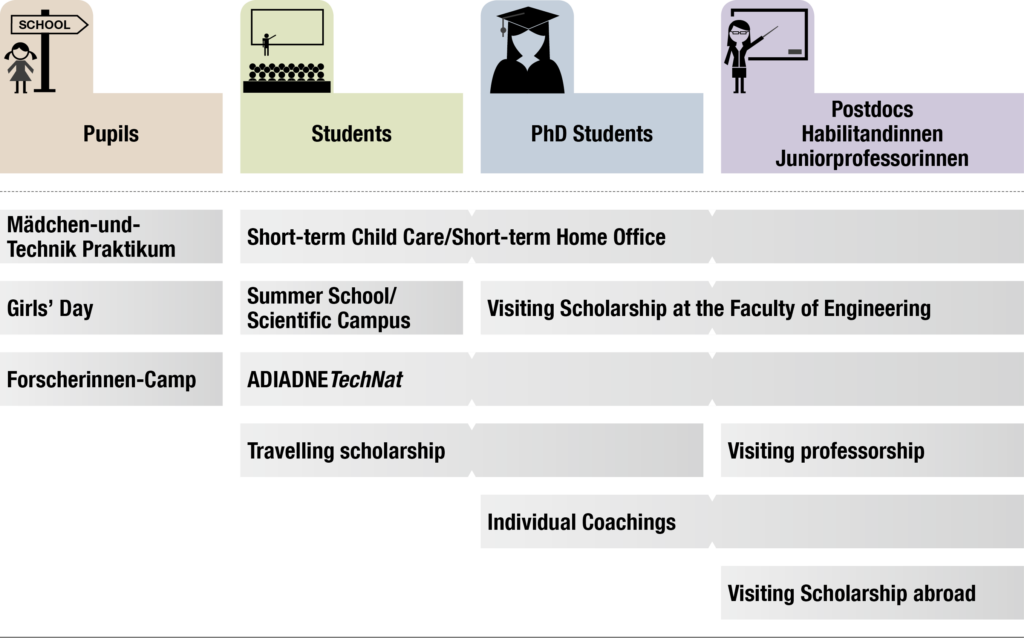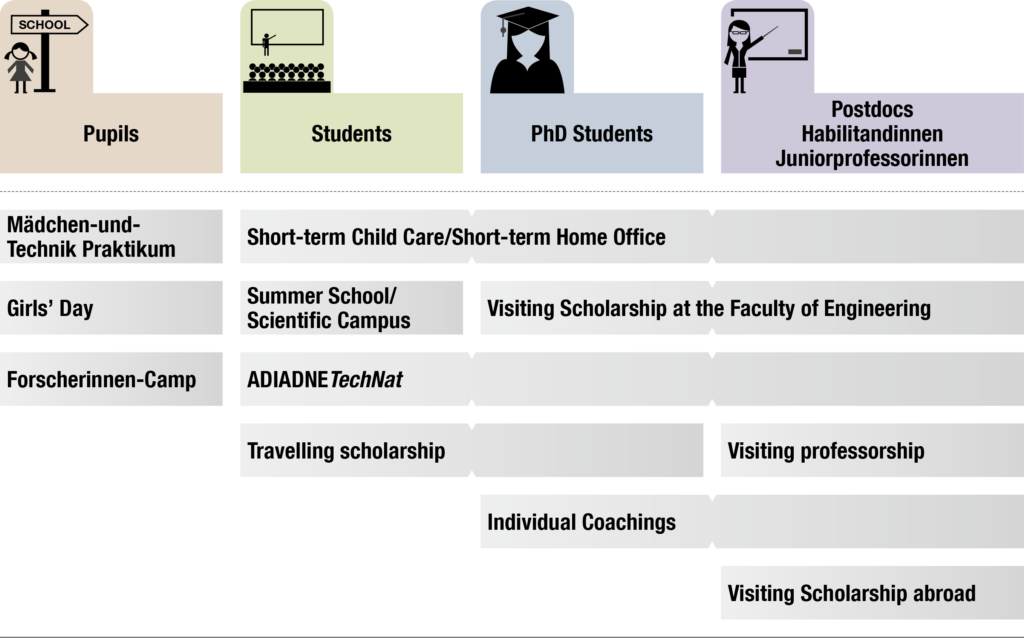 Further initiatives
ARIADNETechNat mentoring programme
The Faculty of Engineering is committed to advancing the careers of particularly talented women across all qualification levels. They run the ARIADNETechNat mentoring programme in cooperation with the Office of Equality and Diversity. By providing women individual support through a personal mentor, the programme aims to help women successfully complete their further qualifications, whilst also encouraging high-potential female students and young researchers to start a career in research. Experienced mentors are there to give advice and support as and when needed. Participation in the programme is free of charge.
The ARIADNETechNat programme offers customized mentoring, depending on the qualification level:
ARIADNETechNat master for Masters' Students (9 months)
ARIADNETechNat doc for doctoral candidates (18 months)
ARIADNETechNat postdoc+ for Postdocs and Juniorprofessorinnen (18 months)
In addition to one-to-one mentoring, the doc and postdoc+ programmes offer a series of workshops that contribute to personal development.
Please contact the programme coordinator programme coordinator if you would like to apply or require any further information.

Rotating visiting professorship
The University has introduced a rotating visiting professorship which aims to increase awareness of outstanding female researchers as role models among female students and young researchers, and to contribute to efforts to support women, while providing women with doctoral degrees and habilitations with an opportunity to advance their careers in teaching and research at the University.
Male candidates whose research activities focus on a relevant topic may also be considered for the visiting professorship.
More information, including who to contact, is available on the website of the Büro für Gender und Diversity (Office of Equality and Diversity)
Application
The professorship is awarded each summer semester. Course content does not have to cover gender. The visiting professor should, however, take an active role in teaching the central curriculum and be available for coaching, specifically aimed at encouraging young women to fulfil their potential. Guest professors are appointed one year in advance by the women's representatives.
Start-up funding for newly appointed female professors
All newly appointed female professors receive start-up funding in addition to the standard financing. The aim of this measure is to encourage women to apply for professorships and to make the Faculty a more attractive employer for highly qualified women.
Expenditure/costs
W1 professorship: €50,000* 
W2 professorship: €50,000*
The entire amount is allocated to the newly appointed professor.
* If a permanent professorship is awarded to an internal member of staff or a professorship is changed from temporary to permanent, the difference to the maximum amount is paid. In no instance will more than 100% of the stated maximum amount be paid.
Portals for searching for female researchers
Are you looking for members of a committee or experts on a particular topic? The website of the Office of Equality and Diversity at FAU gives an overview of portals and databases that can be used to search for women in science.
Becoming a mentor for CyberMentor
CyberMentor is a free online mentoring programme for potential students of science, technology, engineering or mathematics – otherwise known as STEM – aimed at female pupils in years five to twelve. FAU has been involved in the project since 2011. The concept behind CyberMentor is to give girls access to a female mentor. The mentors are all female and can be either students from the third semester or above studying STEM subjects, researchers in the field, entrepreneurs or employees involved in science or business.
Female students and young female researchers at FAU can apply to become a mentor. As a mentor, you benefit from a network of at least 800 STEM women from science and industry.
Maternity and parental leave
Application for maternity leave cover
Applications for maternity leave cover or for research assistants to carry out laboratory work during pregnancy and breastfeeding should be submitted directly to Office P3 – HR Services for Part-Time Academic Staff (plus a copy to the Büro für Gender und Diversity).
Applying for childcare at short notice and working from home
If children fall ill or the situation at work reaches a peak making it necessary to work longer hours, parents can be left with the predicament of how to care for their children. In such situations, parents (students and staff) at the Faculty of Engineering can turn to the Family Service. The short-term childcare service (emergency care) can step in quickly and flexibly to help with childcare as and when needed, making it easier to balance research, work and family. Please contact the Family Service at FAU directly if you require short-term childcare.
In an emergency or if necessary for work reasons,  it is possible to loan a laptop for a short-term. If required, please contact Hanna Stöcker.
status: available.
Further Information and contacts