Graduation ceremony at the Faculty of Engineering
Graduation ceremony at the Faculty of Engineering
The next graduation ceremony of the Faculty of Engineering will take place on
Friday, July 1, 2022, 5 p.m. at the South Campus of the Faculty of Engineering in Erlangen, Cauerstr. 11,
in attendance, provided the Corona regulations at that time will allow it.
You have received or will receive the invitation letter for the graduation ceremony together with your graduation documents from the examination office. Only receipt of the invitation letter entitles you to register.
To participate in the event, it is obligatory to register ONLINE as early as possible by June 03, 2022, after receiving the invitation:
https://www.apps.tf.fau.de/absolventenfeier/
Please note that the opportunity to participate is limited due to the available space. As soon as possible after receiving your invitation, please register online being sure to include the number of persons (max. 3) accompanying you.
As there might be changes due to Corona (even a cancellation of the ceremony might be possible), we kindly ask you to check this website for the latest information:
https://www.tf.fau.de/studium/nach-dem-studium/absolventenfeier-der-tf/.
Program
Welcome by the Dean of Studies
Presentation of the Alumni Associations
Ceremonial lecture
Honoring of the graduates
Awarding of the Bachelor´s and Master´s prizes
Student lecture
Farewell by the Dean
Afterwards, we invite you to a standing reception with accompanying music and snacks in the foyer of the MHB building or, weather permitting, on Red Square.
If you have any questions, please contact the Dean's Office of the Faculty of Engineering:
Martenstraße 5a, 91058 Erlangen, Germany.
Tel.: 09131-85-27295
E-mail: tf-anmeldung@fau.de
The ceremony
At the Faculty of Engineering we are proud of each and every one of our graduates. Normally twice a year we hold a graduation ceremony in the main lecture building at the south campus, or in summer on the 'Rote Platz'.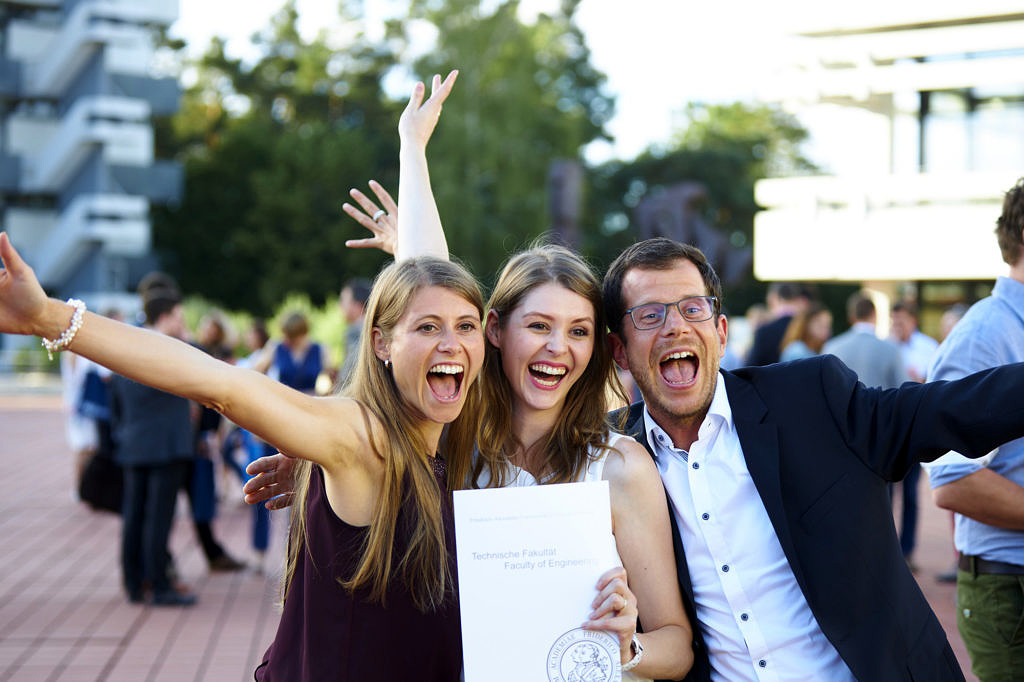 The highlight of the ceremony is the moment when the professors of the five departments formally hand over congratulatory certificates personally to each of the graduates. The top students are also granted awards from industry.
But there ist more: Entertaining, witty speeches from leading figures from industry and top scientists and motivating performances from well-known artists such as the mentalist Harry Riegel, who regularly astounds millions of listeners with inexplicable experiments on radio, ensure that there is never a dull moment.
The official part of the ceremony is completed by some final words from graduates and the formal speech of the Dean before the more informal celebrations start, with plenty of opportunity to chat, enjoy the live music and have something to eat or drink. We hope that the ceremony is a memorable occasion for our graduates, who are standing at the threshold to their professional careers, and encourages them to remain in touch with our Faculty of Engineering for the rest of their lives.
The graduation in a video
The graduation in pictures