It's electrifying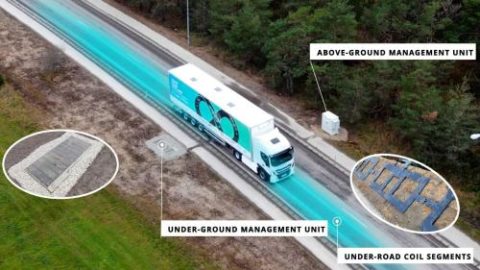 A first test route for inductive charging of electric vehicles is to be launched in Bavaria as part of an FAU project.
No more searching for a charging station, no need to worry that your electric car's battery will run out before you reach your destination: electric roads charge electric cars as you drive. Car drivers will be able to experience the feeling for themselves from 2025 on a test route in Northern Bavaria. The route is part of the E|MPOWER project led by the Institute for Factory Automation and Production Systems (FAPS) at FAU. Together with their partners VIA IMC, Autobahn GmbH, Electreon, Risomat and TH Nürnberg, the Institute hopes to make the technology ready for mass production. The consortium is planning on investments of approximately 8 million euros for the project.
Transportation accounts for approximately one quarter of global greenhouse gas emissions. Sustainable means of transport such as electric cars can help to mitigate the effects of climate change. However, electric cars are still struggling to be accepted by the mainstream. With a relatively short range of approximately 400 kilometers, potential purchasers are put off by the fact that electric cars cannot drive far without having to be charged, and charging the battery takes considerably longer than filling up with fuel, coupled with the at times rather challenging search for a charging station.
One approach to solve the problems is electric roads that charge vehicles inductively, without using cables, while driving and parking. Coils incorporated into the road surface create a magnetic field. When a car drives or parks on the road, this magnetic field induces a charge in a coil incorporated into the vehicle. The special feature of inductive charging technology is that it can be integrated invisibly into roads. This means that, unlike electric roads with overhead cables, they can be used to charge cars and commercial vehicles alike. As part of the E|MPOWER project, a team led by Dr. Alexander Kühl from FAPS are developing technology, manufacturing and construction processes aimed at making roads like this ready for mass production. Their goal is to establish a standard for manufacturing the coils and integrating them into roads.
A test kilometer on a highway in Northern Bavaria
One important step on the way is the integration of the wireless electric road system (ERS) technology from Electreon on a one kilometer long section of the highway in Northern Bavaria. "Building a test track will allow us to test the processes we are working on for automated production and integration into the road surface and to demonstrate that they do work," explains Alexander Kühl. From mid 2025, car drivers will be able to try out the inductive charging technology on a highway in Northern Bavaria, although the small test stretch of road is naturally not enough to fully charge an electric car. "In comparable tests, an output of up to 70kW was transferred," says Kühl.
A powerhouse for electrifying roads
E|MPOWER is one of a number of research projects that have been initiated at FAPS since 2010. The focus has been on developing production procedures for inductive charging systems. As the next step, the researchers are currently working on the joint E|ROAD Center project, which was launched recently at the Cleantech Innovation Park in Hallstadt near Bamberg. The project, led by the FAPS Institute, is aimed at developing and producing electric roads for electric vehicles on German highways, and the development center hopes to become the global leader for electrifying roads.
The E|MPOWER project is being funding by the Federal Ministry for Economic Affairs and Climate Action, reference number 01MV22020A, as part of the "Elektro-Mobil" program, and also has the backing of Deutsche Autobahn GmbH. DLR is responsible for the administrative side of the project.
Further information
Dr. Alexander Kühl
Institute for Factory Automation and Production Systems
Phone: +49 911 5302 99066
alexander.kuehl@faps.fau.de