Welcome to the Faculty of Engineering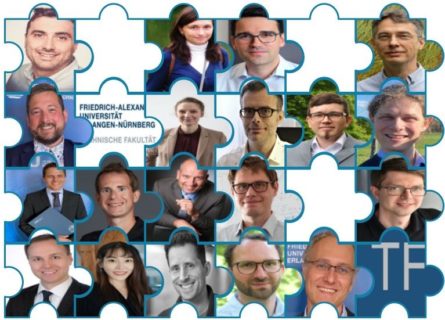 Newly appointed professors at TF
Our newly appointed professors were received by the dean of the Faculty of Engineering in several small receptions. A total of 17 professors have been appointed since 1st March 2021:
Prof. Dr. David Blumenthal, W1-Professorship for Biomedical Network Science
Prof. Dr. Claudio Castellini, W3-Professorship for Medical Robotics
Prof. Dr. Bernhard Egger, W1-Professorship for Cognitive Computer Vision
Prof. Dr. Norman Franchi, W3-Professorship for Electrical Smart-City-Systems
Prof. Dr. Bernhard Kainz, W3-Professorship for Image Data Exploration and Analysis
Prof. Dr. Olga Kasian, W2-Professorship for Electrochemical Energy Conversion
Prof. Dr. Andreas Kist, W1-Professorship for Artificial Intelligence in Communication Disorders
Prof. Dr. Florian Knoll, W3-Professorship for Computational Imaging
Prof. Dr. Viktor Leis, W3-Professorship for Computer Science 6 (Data Management)
Prof. Dr. Tobias Reichenbach, W3-Professorship for Sensory Neuroengineering
Prof. Dr. Daniel Roth, W1-Professorship for Human-Centered Computing and Extended Reality
Prof. Dr.-Ing. Thomas Seel, W3-Professorship for Intelligent Sensorimotor Systems
Prof. Dr. Jörg Schulze, W3-Professorship for Electron Devices
Prof. Dr. Anna Vikulina, W1-Professorship for Surface Functionalization for Polymers
Prof. Dr. Tim Weyrich, W3-Professorship for Digital Reality
Prof. Dr. sc. techn. Bernd Witzigmann, W3-Professorship for Optoelectronics
Prof. Dr. Seung Hee Yang, W1-Professorship for Artificial Intelligence in Biomedical Speech Processing
The events offered the opportunity to receive important information about the Faculty of Engineering, to get to know each other in person and to learn more about the areas of expertise of the new colleagues. The employees of the dean's office also welcomed the newly appointed professors and took the chance to give insights into the administrative support offered.