Join FAU to study for a better future!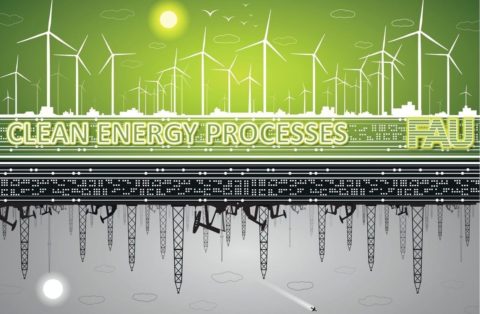 The recently published Working Group I contribution to the Sixth Assessment Report of the Intergovernmental Panel on Climate Change (IPCC) carries a dire warning of the potentially irreversible consequences of following the current trend of global warming. Extreme events, such as the huge wildfires and devastating floods seen in many regions worldwide this summer will become commonplace. Moreover the very existence of some island nations will be threatened and drought will render whole regions inhabitable. To combat this, we must double our efforts to achieve net zero CO2 emissions as soon as possible.
How can we continue to improve and maintain the quality of life for all inhabitants of the Earth at the same time as meeting this goal? We need clean energy!
However, renewables like wind and solar power bring with them immense challenges, such as how to store and distribute the energy, which is often harvested far from where it is needed, in an efficient and environmentally friendly way. Moreover, if we are to greatly accelerate the transition from fossil fuel powered vehicles to e-mobility we need innovative solutions. Specifically we strive for processes which provide the means to convert electrical into chemical energy, for instance in the form of hydrogen, or in rechargeable batteries, and back again. To achieve these, a new generation of engineers needs to be primed for innovation in chemical engineering, energy distribution infrastructure and economics.
The FAU's newest English-taught Bachelor's/Master's course Clean Energy Processes aims for exactly that. Students will benefit from a strong research-based, interdisciplinary approach as well as FAU's close connection to the Helmholtz Institute for Renewable Energies (HI-ERN). While the application portal for the Master's programme is now closed, we are still welcoming applications for the Bachelor's programme (Winter Semester 2021/22 entry) until 31.08.2021. For more information visit the programme website https://www.cep.study.fau.eu/