Delegation from Australia visits FAU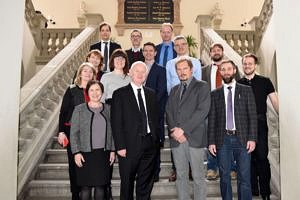 A delegation from the Faculty of Health of Queensland University of Technology (QUT) from Brisbane, Australia visited FAU on 15 – 16 March 2018. The visit was organised by Professor Dr. med. habil. Dr. rer. nat. Dipl. Phys. Oliver Friedrich, Chair of Medical Biotechnology (MBT) at FAU.
During their two-day visit, the delegation visited the Translational Research Centre (TRC) at Universitätsklinikum Erlangen, where they were welcomed by Prof. Dr. med. Dr. h. c. Jürgen Schüttler, Dean of the Faculty of Medicine, as well as the Department of Sport Science and Sport, and the Central Institute of Healthcare Engineering (ZiMT) at FAU. Prof. Dr. Friedrich Paulsen, FAU Vice President for Teaching and Learning and Head of the Institute for Anatomy II at FAU, welcomed the guests on behalf of the Executive Board of the University and gave a presentation about selected research projects.
The aim of the visit was to lay the foundations for cooperation in the future with, for example, Medical Valley EMN, ZiMT, and the Interdisciplinary Centre for Public Health (IZPH) at FAU, as well as for cooperation in areas such as neuroimaging or the health of refugees and immigrants.