Corona suggestion box
Corona suggestion box
Do you feel overwhelmed by sitting in a full lecture hall again, concentrating there or generally being among so many people?
Are you unable to attend your classes because you have a chronic illness or disability and feel isolated from your fellow students?
Is this the right course of study for me?
How do I connect with my fellow students after the many semesters of digital teaching?
For me, it has now become more difficult to organize my studies with my illness or disability due to the presence study. Who or what can help me in this regard?
Everything is simply overwhelming me and I can't even put my finger on what is actually going on.
No matter what problem you are currently facing with your studies, write me an email at tf-kummerkasten@fau.de or call me during my phone hour at +49 1573 767 84 04 and I will be happy to listen to you. You can also drop by spontaneously in my attendance office hours in room 0.232-119 (foyer of the Mensa/Lecture Hall/Library building of the TF). Registration is not necessary.
If you like, we can try to find solutions or I can refer you to appropriate counseling services. Of course confidential and without naming names. Remember to use an e-mail address without your real name and activate the number suppression in your device before calling.
Important: This offer does not replace legal advice, study counseling or psychological care.
A short English sequence starts at 1:57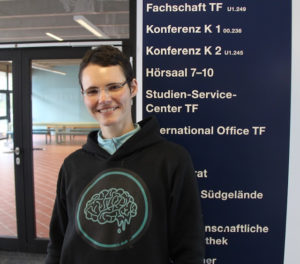 About me:
My name is Marie-Hélène Barthel and I studied computer science (M.Sc.) with a minor in psychology at FAU Erlangen-Nuremberg. In addition, since January 2021, I have been volunteering to run the Zoom chat for students with disabilities and chronic illnesses, which is supported by the "Inclusion at FAU" project at the Office for Gender and Diversity.
Helpful links: