Long Night of Sciences 2022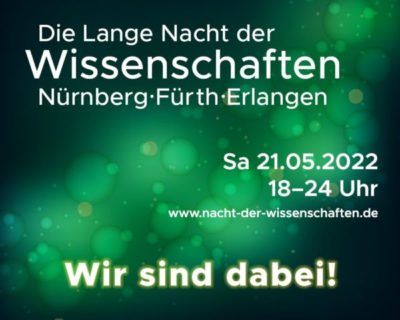 Saturday 21 May 2022, between 2 pm and midnight
The tenth Long Night of Sciences is being held in spring this year, on Saturday May 21, with several open air events on offer. FAU is set to welcome visitors to its locations in Erlangen, Nuremberg and Fürth. With more than 260 items on the agenda, FAU is showcasing how science is set to shape the future. The kids program is up first, from 2 pm to 5 pm, before the main Long Night of Sciences starts at 6pm and runs until midnight.
Knowledge and conviction
At FAU, the Long Night of Sciences will get off to a start with a lecture in the Erlangen Audimax lecture theater at 6:45 pm "Glauben zu wissen – Zwischen Forschung, Fiktion und Verschwörungstheorien (Knowledge and conviction – Research, fiction and conspiracy theories)." The guest speaker is astrophysicist Prof. Dr. Harald Lesch, known from ZDF and Terra X, who will speak about cosmology and climate change. A livestream of the lecture will be available in lecture hall 11 at FAU's southern campus, with a repeat being screened at 9 pm in the Schlossgarten.
FAU Campus Erlangen (south): Hope for the future
At the Faculty of Engineering the focus is on mobility in the future, and visitors can test how sensors in a self-driving car perceive its surroundings in a test vehicle available for the purpose, or experience the vertical take off of the latest drone from the university group Evolonic.
The program is available at www.nacht-der-wissenschaften.de, where tickets can also be booked online. Regular tickets cost 15 euros, reduced tickets for students 10 euros. The ticket for the Long Night of Science also entitles visitors to use the shuttle buses and public transport throughout the VGN network: from 12 noon on Saturday, May 21, until 8 a.m. on Sunday, May 22, 2022.